Arunachala Cave
Samadhi Hermitage, New Mexico
We are constructing a new cave, and will put more info and pics here when finished (hopefully, 2013).
Our second meditation cave, the Arunachala Cave, is awaiting completion. This cave is intended for long term use … for individuals intending a one month or longer retreat. It will have its own small kitchen contained in the entry area. This photo shows the last stage of stone masonry construction. As with the Samadhi Cave, it is a 12 foot diameter Octagon, with 7 foot high walls. The hillside was cut for this in 2002, yet varying circumstances delayed construction until 2008-9, when precious friend (also builder and contractor), JTGrosch, joined Ananda for 3 different one week stone masonry marathons .. 10-12 hours per day each week. In 2013 JT will hopefully once again join us, this time for carpentry to finish the roof, front entry, etc. etc. (JT also visited India in 2010, to help build the stone block meditation cave at our Advaita Ananda Samadhi Hermitage in Ellora

On this Arunachala Cave page, new photos will time-to-time be placed, as the work progresses to completion.
Jai Ma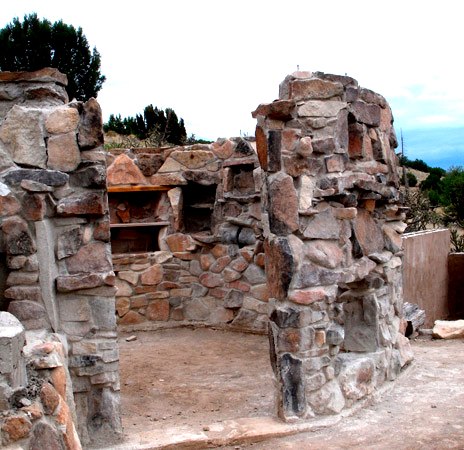 Looks like something out of ancient Rome. To the right will be the entry area, and self-contained kitchen;
so when completed the stone wall visible here and in the above photo will not be seen from outside.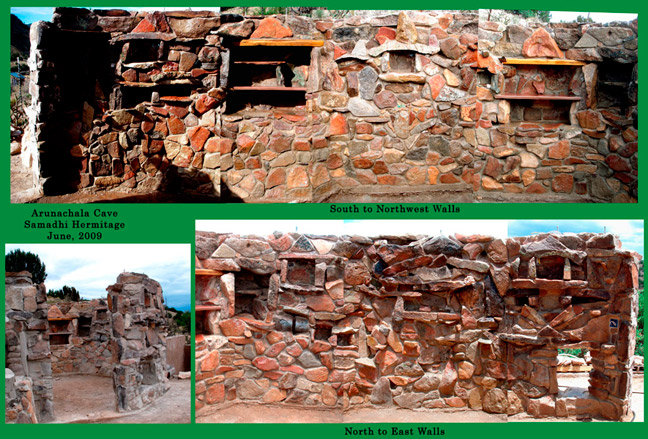 Not easy to photograph an octagon, so here's the best attempt.
Notice, we found a nice pyramid/triangle stone for the top of each Altar and shelf area on the 7 stone walls.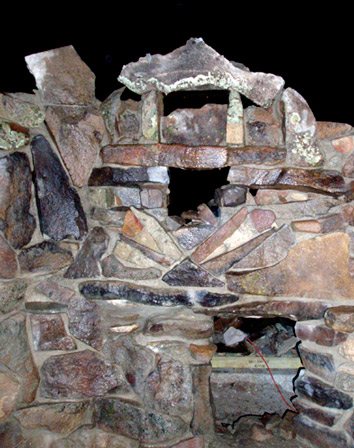 Stunning night shot of east wall.
Yes, we did enjoy doing this layout!

THE CREW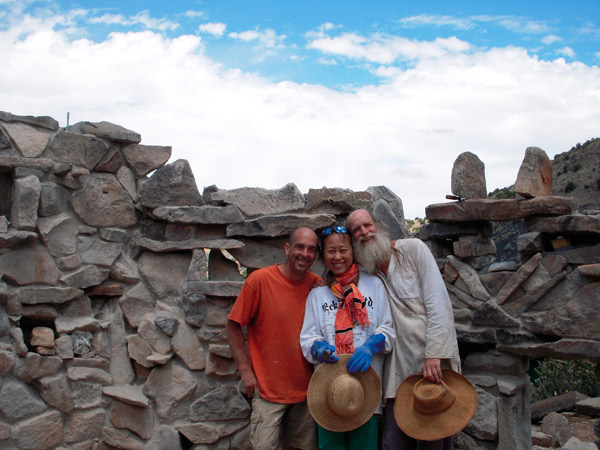 JT, Yuki and Ananda -- the 3 heart team for stage three .. completion of the Masonry.
Yes, we had a blast!!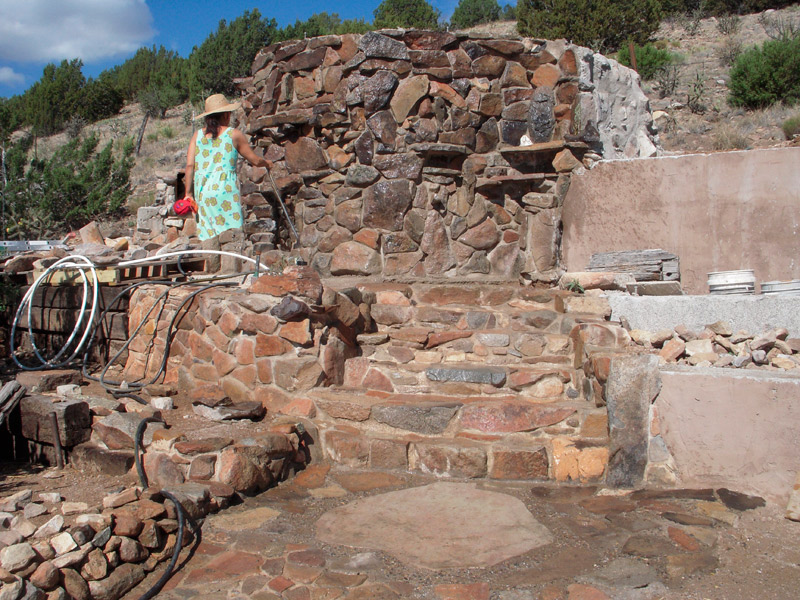 That's Yuki, watering the walls, cleaning & scraping cement from joints,
and also bringing us Smoothies all day long to maintain the masonry marathon.
We know very well we would not have achieved in one week, the amount of work we did to complete the masonry,
without Yuki's loving touch to the cleanup, making smoothies, and especially doing acupuncture on us for most mornings and nights!
Thanks Yuki, ever so much!