Charitable Services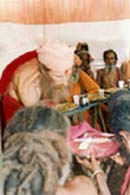 There's an old saying in India... "a hungry stomach does not know God."
Thus ... when we share our abundance, no matter how big or small it may be,
we help keep spirituality alive in our society and the world;
we experience an incredible joy and "oneness" from doing so,
and we likewise enable others to do and enjoy the same.

Can there really be any higher purpose to life than this ..
to enjoy personal joy and peace in life,
and thru sharing and serving, enabling others to experience the same?
Is there a definition of "Liberation" which does not embrace this?

Most likely, not so.
May all beings enjoy such peacefulness and joy within;
and putting such smiles in the lives and hearts of others.
Jai Ma!
We enjoy the privilege of financially supporting needful and sincere spiritually-focused families (and individuals) and Sadhus (Monks) in India & USA. In the 1970's, in Sri Lanka, we also did much service to a rural village, and also a community of 55 shanty-dwelling families living along the RR tracks in downtown Colombo (B & W photo below). That ended with a joint project with the Prime Ministers office to relocate those families to gov't built homes in the outskirts of Colombo. Thus, from the early 1980's to present, our focus has been primarily in India.

Various forms of seva (service) occur thru contributions of
clothing, medicine, vitamins & other supplements, money, materials and tools for
self-improvement, self-employment, better health, education of children, home improvement or repairs,

spiritual pilgrimage, and so on.

Certain individuals or families receive this on a fairly regular basis;
others on a per need or request basis;
and once per year a gift of money (usually $200) is given from our "Krishna Roy Memorial Fund" to someone in need in USA.

When our Monk or friends visit India & Sri Lanka, contributions of medicine, vitamins & other supplements, and used clothing from friends and thrift shops are usually taken along for distribution. Extra funds are also sent for gifts and "spontaneous" service as occasions arise.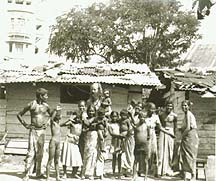 Every moment of life can be a meditation...
and, every action a gift of love and service.
In this way, our whole life eventually becomes
an ongoing process of self-purification and service,
through awareness of self... and doing service.
ONGOING PROJECTS:
PLEASE GO TO

Mishra Family Sarubai & her children, Ellora, India

and

Society for Poor Peoples Development, Tamil Nadu, India


for which we need financial help whenever you can send such.




= NEW =


"Samadhi Hermitage Trust"

We are now officially registered in India as an NGO
(non-profit Non-Government Organization)
under the name "Samadhi Hermitage Trust".


PLEASE VISIT THIS LINK TO ENJOY THE DYNAMICS OF THIS NEW CHAPTER
OF SAMADHI HERMITAGE SEVA


http://www.samadhihermitage.org/SaHTrust.shtml


<>


Want to Help?
Your kind donations are always welcome.



If you wish to donate any funds for the charitable services of

"Samadhi Hermitage Trust"

in India

,




please send your tax-deductible donation to the Samadhi Hermitage, Inc., mentioning for SaH Trust - India.





Samadhi Hermitage




P. O. Box 4164




Santa Fe, NM 87502





We are a 501(c)(3) non-profit organization (USA registration, 1995), and a receipt will be sent to you for your files.




No amount is too small or too large; and all will be very much appreciated.



Thank You So Much.



Jai Ma!




Ananda

>

INDIA
our ADVAITA ANANDA SAMADHI
HERMITAGE and
ASHRAM in Ellora, Maharashtra;
and Ananda's fantastic stone masonry in building it.
*** Ready for Cave Time in India … near the Ancient Ellora Caves? ***
Stories and pictures of the FAMILIES we support in India … and other fun stuff too!
Click here … for a visit to "our" India

Would you like to help with our social work in India?
For assistance to poor folks in
any
3rd world country, no amount is too small or too large.
In India: $20/month = private English language school for one child at Elementary level;
$50/month = basic necessities for a single-mom family, 3 kids;
$100/month = fairly well full monthly expenses.

$10-20/month is not a hardship for most of us, yet it can do wonders for social work in India and elsewhere.

If one wishes, Internet Banking enables fixed monthly donations as well as random.
Soon we intend to set up a PayPal account.

Bank-toBank Transfer to Samadhi Hermitage Account:
U.S.BankAcct. #155919133449; ABA Number: #107002312

Via personal check, payable (and send) to:
Samadhi Hermitage
7 Peaceful Way
Madrid, NM 87010
Samadhi Hermitage, Inc. is a 501(c)(3) non-profit organization since 1995.
All donations are tax-deductible; and in advance, we thank you SO much.



ananda@samadhihermitage.org
(please copy/paste to your email program).

Telephone: (505-473-3560)


A February, 2011 Survey


Return to Top of Page